Cestrian's tension fabric frame walls are created by stretching high-quality digitally printed fabric graphics across modular micro aluminium frames, producing a seamless and crease-free finish. Fabric frame displays are a bold and creative way to promote in-store, with striking visuals for maximum impact and effect.
They are ideal for displaying vivid images, written information and a variety of mounted accessories including TV screens.
Our system has been used in a range of environments including retail stores, offices, meeting rooms, public spaces, gyms and showrooms.
TOTAL VERSATILITY
The innovative display system is designed to bring an engaging and impactful look and feel to your walls, while being easy to install and maintain.
WALL-SIZED COVERAGE | Wide-format fabric means large-scale coverage in one piece. Our method enables you to hide wires, switches, sockets and damaged walls behind the fabric.
ADD ACCESSORIES | Using upright brackets behind the graphics allow TVs, shelves or framed pictures to be hung seamlessly against the fabric.
PERFECT FIT GUARANTEED | Silicone extrusions are sewn into the edge of the printed fabric, allowing the graphics to be easily and neatly slid into the frames – no need for specialist fitters.
RAZOR-SHARP PRINTING | Expert insight is combined with state-of-the-art printing technology to produce vibrant graphics of the very highest quality.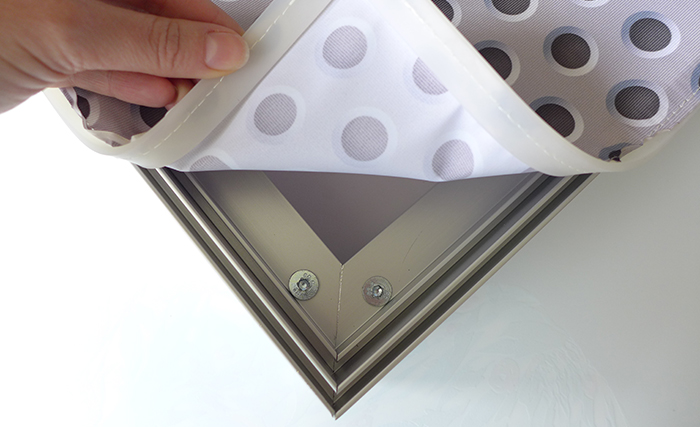 Bespoke frames Manufactured to any size and shape.
One-piece print Maximum height of 3200mmin any length.
High-quality stretch fabrics Creases are stretched out upon fitting.
Dye sublimation printing Inks are embedded into the fibre of the weave.
Printed using water-based inks for greener production.
Powder coated frames (additional) Incorporate your brand colours.
Low delivery and storage costs Fabric can be folded up small and neat.
Environmentally friendly 100% recyclable fabric.
Lightweight frames For easy installation.
Fire safety Fire rating DN 4102-B1.
Replacement graphics Frame and graphic details are stored on our ordering system for quick and easy reprints.
SIMPLE INSTALLATION
Our network of specialist fitting teams can handle the most complex of rollouts; from auditing estates at the beginning of your project right through to the installation of your aluminium system and graphics at the end. Alternatively, the aluminium system has been designed for straightforward and easy installation.
We pride ourselves on our printing excellence, outstanding customer service and our specialist network of experienced installation teams across the UK.
GET IN TOUCH OR CALL 0161 488 3300 TO FIND OUT WHAT WE COULD DO FOR YOU