TENSION FABRIC GRAPHICS – THE PERFECT CHOICE FOR YOUR NEXT RETAIL DISPLAY
Looking for an impactful yet versatile way to produce a retail advertising display? A Tension Fabric Graphic display could be just what you need.
Combining the benefits of a wall covering with point-of-sale graphics in one product, Tension Fabric Frame displays are created by stretching high-quality digitally printed fabric graphics across modular aluminium frames, producing a seamless and crease-free finish.
They're ideal for displaying vivid images, written information and a variety of mounted accessories including TV screens.
Here's why Tension Fabric Graphics could be the perfect choice for your next display:
FLAWLESS FINISH AND CRYSTAL CLEAR VISUALS
Advanced printing techniques: These create crisp, vibrant imagery that instantly stands out.
A wide choice of textiles: Enables you to fine tune the feel of your displays, achieving everything from a lively, modern look, to a heritage, premium aesthetic.
Colour match frame options to suit your brand: Aluminium not your colour? Don't worry—frames can be powder-coated to match any brand colour palette and create a consistent visual experience.
LIGHTWEIGHT, LONG LASTING AND EASY TO INSTALL RETAIL DISPLAYS
Robust: The aluminium frame ensures structural integrity, robustness and ease of installation.
Simple to set up: There's no need for specialist equipment, anyone can set them up and reposition wherever required in a few simple steps—particularly important when regularly changing out displays for seasonal promotions.
Foldable fabric: Allows for simple storage, easy to re-use and low delivery costs due to the light weight and dimensions. Specially designed to prevent creasing, ensuring quality remains high.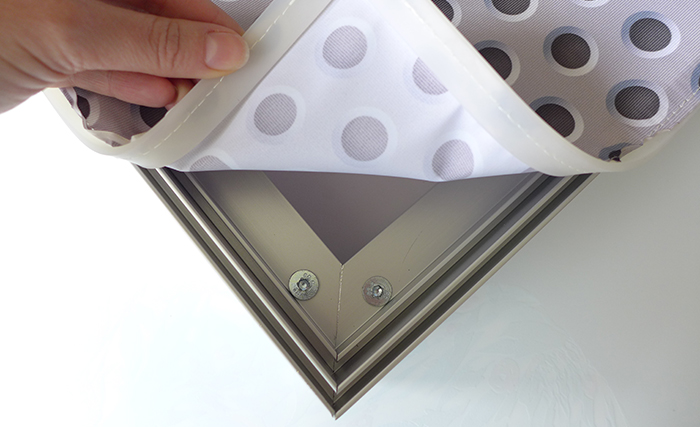 ANY SHAPE RETAIL DISPLAY, ANY SIZE
Bespoke solution: Every store is different. Fortunately, fabric frames have endless configurations to explore the different possibilities of each space.
Wall mounted: Fabric frames can be wall mounted—even wall sized—to create a big impression and instantly change the feel of an area or window display (and hide all those wires, switches and sockets from view).
Freestanding options: And they're not confined to the walls either. Modular frames can be freestanding—flat or curved, single or double sided—creating numerous possibilities to guide and surprise customers and focus their attention throughout the store. They can even be hung from the ceiling!
A SHINING LIGHT
Illuminate your displays with Fabric Light Boxes. Exploiting the specially designed qualities of fabric, tension frames can be brought to life with dynamic backlighting.
Just like other fabric frames, LED light boxes can be single or double-sided, free-standing, wall-mounted, table-top or ceiling-hung. There's also the choice of strip or edge lighting to create a 'halo effect', depending on the finish you require.
Key benefits of Tension Fabric Graphics:
Attention grabbing—something different to draw the eye
Cost-effective—big impact for modest investment
Foolproof installation—easy to set up, take down and reposition
Long-lasting—durable frames; switch fabric covers simply and quickly
Limitless applications—modular design can be manufactured to any size and shape
Low delivery and storage costs—fabric can be folded up small and neat.
GUIDING YOU THROUGH
Cestrian are expert producers of Tension Fabric Graphics. Contact us to see how we can help with your next display project.