QUALITY STANDARDS ASSURED
Cestrian has been certified this month to the latest ISO standards, for both Quality Management (ISO 9001: 2015) and Environmental Management (ISO 14001:2015). This proves our commitment to our performance as a business, and gives our clients and other stakeholders confidence in us.
COMMITMENT TO SUSTAINABILITY
Ivor Watters, Cestrian Managing Director, said: "As a responsible business, we're committed to sustainability throughout our operations, and are always looking for new and improved ways to manage our waste.
Our year on year zero waste to landfill achievement and our new initiatives to reuse and repurpose plastics show our dedication to do the right thing throughout our customer and supply chain.
It's important to us to maintain and improve our high standards in our corporate social responsibility, and to support our customers to achieve their own sustainability and quality standards too "
ISO 9001: QUALITY MANAGEMENT
Cestrian has held ISO 9001 certification since 2011. This accreditation means that we have stringent Quality Management Systems in place – continuously auditing, reviewing and enhancing our practices to ISO 9001 standards.
For our customers, this means, we are not only consistently reliable in our customer service levels and production process, but actively improving to save time, resources, costs and refine our procedures to create a better experience for them.
ISO 14001: ENVIRONMENTAL MANAGEMENT
Cestrian has also held ISO 14001 accreditation since 2011. One of the main elements that's integral to this recognition is continual improvement.
We operate a strict and thorough continuous improvement process, which means we are constantly finding new methods to reduce our environmental impact, save resources, reduce costs and improve our environmental efforts to be more sustainable.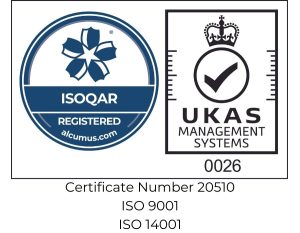 :
Alcumus ISOQAR Group registered us for the production and supply of large format screen and digitally printed products to customer designs at the Cheadle Hulme site. Please contact us if you'd like to know more about our processes.