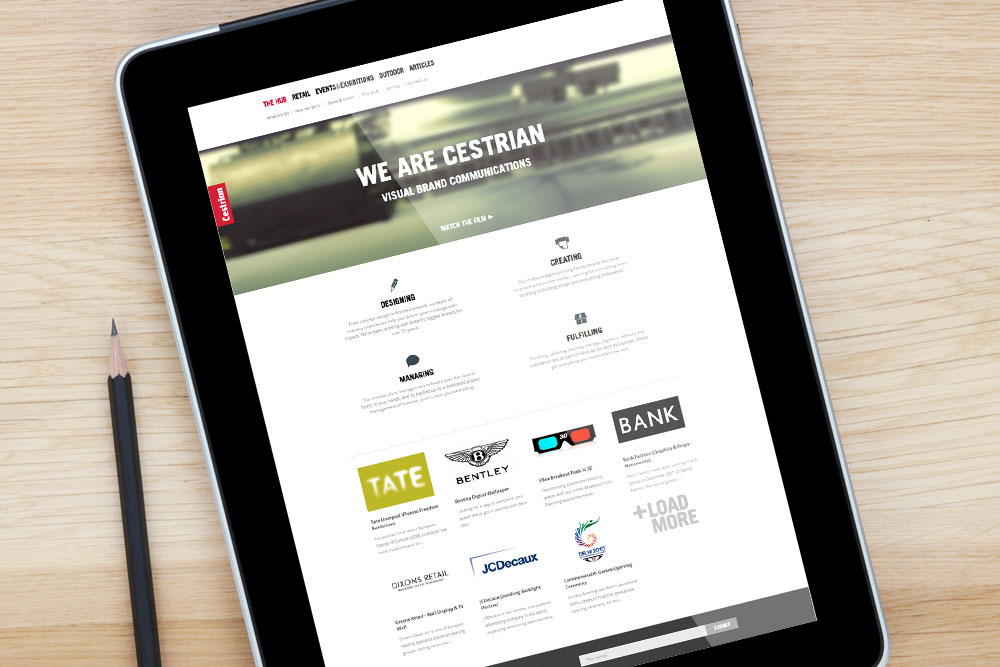 Cestrian are pleased to announce the launch of their fantastic new website and are very excited to share it with you! The new site has been designed to have a clean, minimalist look whilst reflecting their innovative thinking and position in the visual brand communications industry.
SO, WHAT'S NEW?
For each of the specialist sectors (retail, outdoor, events & exhibitions), you can see what Cestrian do, how it's done, meet the teams and how to contact them directly. You can also take a look around previous projects for ideas or just get a better idea of how Cestrian can help you bring your brand to life.
In the articles section you can search for case studies relevant to your industry; they explain the innovative solutions from start to finish. You can see what the brief was, the solution and the challenges that were overcome. Articles on technology will tell you about their printers, equipment and new software that's being developed to help you make your job easier and more streamlined.
In addition to the new design and content, there are four brand new corporate videos which put you right into the heart of Cestrian, giving you an in-depth look into the factory, the work produced and all the background scenes you wouldn't necessarily see.
Take me to Cestrian Overview video >
Take me to Cestrian Retail video >
Take me to Cestrian Outdoor video >
Take me to Cestrian Events & Exhibitions video >
If you take a look at the website on your phone or tablet you'll also see that the site is a responsive design, so you can find Cestrian on your chosen device or if you're out and about.
Phill Reynolds, Director of Cestrian Imaging Ltd, commented: "We are delighted to be launching our new website. The idea for a new dynamic and fresh website came from our staff; our website needs to encompass our innovative visual communication solutions and the specialist knowledge we have for the retail, events and outdoor industries. We are extremely happy with the final result and believe it will be vital to business enquiries."
WHAT'S NEXT?
Getting information and the latest insights is also now even easier with the quarterly eNewsletter, so make sure you sign up. Scroll to the bottom of this page to subscribe for updates, blogs, new case studies and promotions.
And finally, take a look around, there is lots to read and see. If there's something you'd like to see more of or something different, get in contact with Emma Baker-Smith
Enjoy!
Topics: