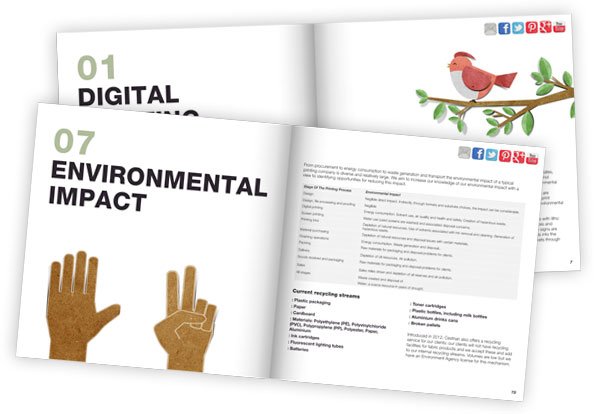 Cestrian Imaging are proud to be presenting their second full EMAS Environmental statement. EMAS – the Eco-Management and Audit Scheme, is a voluntary initiative designed to recognise and reward organisations that go beyond the minimum legal compliance and continuously improve their environmental performance.
A requirement of the scheme is that participating organisations regularly produce a public environmental statement that reports on their performance. It is this voluntary publication of environmental information, whose accuracy and reliability has been independently checked by an environmental verifier that gives EMAS and those organisations that participate enhanced credibility and recognition.
In 2013 Cestrian are the only digital specialist printing company to be EMAS registered and one of only twelve across all UK print sectors. Phill Reynolds, Owner, said: "EMAS registration has greatly increased our profile within our market sector and attracted interest from clients keen to work with a print supplier that publicly reports its environmental performance."
Phill added, "In 2012 we fully reaped the benefits of our investment during 2011. Our state-of-the-art digital presses lived up to our expectations in terms of productivity and efficiency which played a part in meeting our performance and environmental targets for 2012."
The awareness of EMAS is growing, both with printing companies and buyers of print, and the resultant improvement in the environmental reputation of the UK printing industry can only be good news. Cestrian are proud to have played a part.