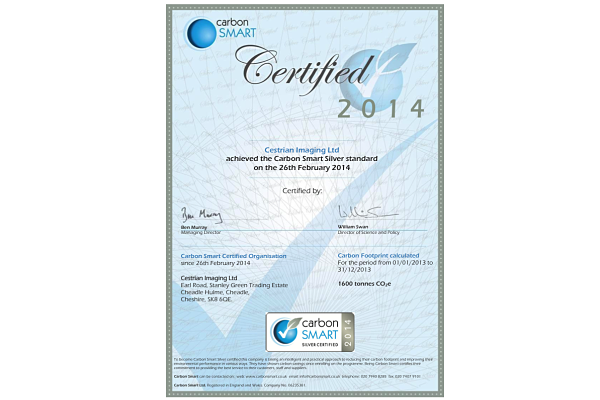 Cestrian Imaging has been awarded the silver level of the Carbon Smart certification for its hard work in reducing its impact on the environment.
Instead of being awarded the entry-level certification (Carbon Smart Blue), Cestrian Imaging impressed the judges so much, it was given the silver certification. In fact, when the judges left, they commented that it was the cleanest factory they'd ever seen.
The business has now been provided with an action plan from Carbon Smart to work towards the gold level next year. Carbon Smart is a nationwide certification programme to help businesses show they are actively lowering their carbon emissions.
Phill Reynolds, owner at Cestrian Imaging, said: "We are extremely proud of our team who have worked so hard to achieve this important certification – especially as we have been awarded the silver level from the offset.
"Being green is at the heart of what we do here at Cestrian Imaging and we are constantly looking to improve our business processes in order to do our bit for the environment, as well as reducing our costs and overheads."
With a dedicated Environmental Action Team drawn from all parts of the business, Cestrian Imaging has now established targets of 5-8% to continue reducing carbon emissions throughout its business over the next year.
Last year, Cestrian Imaging presented its second full EMAS Environmental statement, which is a voluntary initiative to help businesses demonstrate their commitment to the environment.
The digital print business already has stringent Quality Management Systems in place to continuously audit, review and enhance all of its work to ISO 9001 standards, in order to reduce waste production.
In addition to this, it also holds the ISO 14001 accreditation, which demonstrates the business's commitment to reducing the impact that print has on the environment. The business also works closely with its suppliers to ensure they are as environmentally friendly as possible.