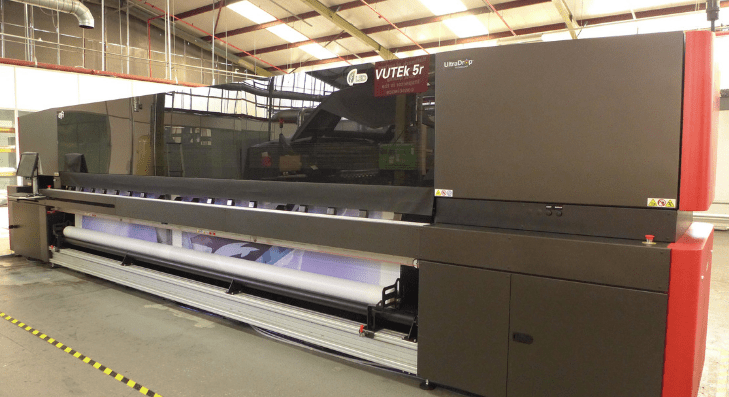 The Cestrian team is proud to welcome a giant new friend to our stable of world-class printing machines, further strengthening our capacity as our customer base continues to grow.
The EFI Vutek 5R can print an astonishing 460m2 per hour, with a maximum width of 5 metres and true resolution of up to 1200dpi for superior image quality. It's also kind to the environment, with LED curing technology and high ink efficiency.
"This acquisition is part of our ongoing commitment to invest in the latest print innovations wherever possible," said managing director Simon Summers. "And as our European sister business Arian has the same machine, we can ensure consistency of colour and quality across multinational projects. In a competitive market, it's vital that we provide the very best print products for our clients."
Productive, sharp and cost-effective
The benefits of the EFI Vutek 5R include:
High-definition image quality – using seven-picolitre UltraDrop™ technology to create impressive transitions, vignettes, skin tones and shadows
Streamlined production – the inline finishing system cuts and slits graphics straight off the press, meaning quicker turnaround of jobs, less downtime and less finishing time
Extreme precision – with sharp four-point text
Green credentials – low-power LED lights and a no-wastage ink system are good news for the environment (and keep our overheads low – which in turn benefits our clients)
Accurate double-sided printing – thanks to an in-built camera system
Easy identification for merchandisers or installers for tiled graphics – using an ID backprint
At Cestrian, our versatile new machine will mostly be used to produce banners, billboards, posters, backlit displays, point-of-sale graphics, wallpaper and window graphics.
It's exciting to watch it in action, too – so get in touch with our team if you'd like to arrange a visit (call 0161 488 3300).