Seven ways for retailers and brands to take advantage of the year's major sporting events
Sporting events bring people together like little else and retail has a long history of capitalising on major tournaments as a hook for merchandising, promotions and events—think of the recent Rugby World Cup as a great example.
National loyalty, and pride in individual sporting stars, is high during these events, so capitalising on this sense of goodwill and emotion makes good sense from a brand affinity and commercial perspective.
2020 is BIG for sport. Alongside the usual annual events, it sees the Summer Olympics and Paralympics, Euro 2020 and the ICC World T20 Cricket.
How to capitalise on sporting events with clever in-store promotions
So how can you capitalise and get ahead of the field? Read on for seven winning tips to get in on the action.
1. Consider your shopper profile. Will a sports theme appeal to them—and if it will, which sports are most likely to resonate? Could your brand 'adopt' a sport? Or could you align yourself to something less mainstream?
2. Think of product and promotional tie-ins that are natural partners for sporting events. The big supermarkets often run beer and BBQ promotions during major football competitions. Limit the timing of your promotion or discount to the duration of the event to create a sense of urgency—and don't forget the different options to create arresting displays and encourage impulse purchase.
Floor graphics, POS cubes, hanging banners and entrance arches offer a fresh take on using space cleverly, while shelf 'heroes' and promo area takeovers give individual brands within stores the opportunity to make an impact in a competitive space.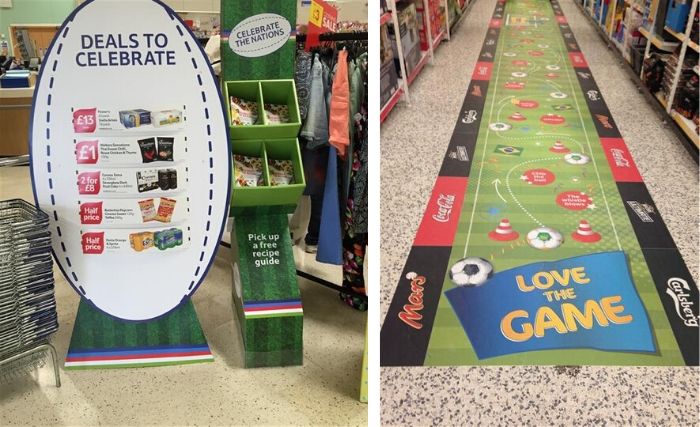 SOURCE: POPAI
For a real wow factor, why not combine flashing LEDs with printed graphics? Available in tension fabric graphics and 2D/ 3D point of sale, they're one of the most eye-catching display formats available.
3. Consider the negative impact that big sporting events can have on sales—shoppers are less likely to hit the high street when there's a big game on. Think about how you can bring them through the door in between times. Does your product range lend itself to capitalising on those big events? Can you offer promotions for shoppers to stock up for a match? Or a 'To buy' list that encourages them to plan their own party at home? (Don't forget this means saving on their carbon footprint too!)
Your website can really help here—how about a 'plan your event' section that allows shoppers to enter their event, alongside the number of people and ages attending, then receive a ready-made shopping list? Include food, drink, decorations, and arrange for click and collect or free home delivery in plenty of time for kick off.
4. Make your window displays as eye catching as possible. If footfall is likely to be lower, don't lose the opportunity to bring the shoppers who are on the high street, into your store.
Consider fabric printing and tension fabric systems, or self-cling window graphics which can be switched out in a matter of minutes (useful if the national team progresses further than expected—or makes an early exit and you need a plan B!
5. Integrate your in-store and digital activity—could your sports theme take over your website or social media presence? Can you integrate your social channels with your in-store activity? Run competitions on and offline, create photo opportunities, or get younger visitors testing their skills with Olympic challenges in store? Link in offers, or distribute voucher codes that can only be redeemed in-store to create further reasons to visit.
6. Don't forget that sporting events are just that—an event—and they lend themselves to in-store ideas for the 'watchers'. As a fashion brand, could your displays focus on what to wear for Wimbledon or Ascot, or in electrical retail, the biggest screens and best audio to listen on?
7. Finally, and most importantly, plan early! Your plans for the sporting year should be part of your strategy, not just tagged on as an afterthought.
After all, these sporting occasions only come round every few years, so push the boundaries, get your retail team involved and be in it to win!