Tips to make improvements throughout the print lifecycle
 Corporate responsibility is climbing the agenda. The impact of coronavirus in 2020 has encouraged businesses to take stock and re-assess their priorities – and for many, a focus on sustainability and making ethically-driven decisions for the long-term, makes solid business sense.
'Sustainability' is about longevity and it touches on businesses' social and community impact, as well as the environment. It's about defining your organisation's purpose and wholeheartedly committing to it.
Importantly, defining your approach to sustainability won't just satisfy your head of CSR, it's also 'good' business commercially. Consumers are increasingly looking for authenticity from brands, with research showing that shoppers (particularly Millennials and Gen Z) are willing to spend more money for sustainable products – making it a sound decision all round.
Certainly, businesses built around the idea of 'purpose' are increasing in number, with organisations such as B Corps, which certifies those that meet the highest standards of social environmental performance, transparency and accountability, growing in stature.
There are certainly examples within the retail sector of sustainability pioneers, with US outdoor clothing brand Patagonia leading the charge. Named a UN Champion of the Earth in 2019, the retailer clearly sets out its purpose in its mission statement; 'We're in business to save our home planet.'
Nearly 70% of Patagonia's products are currently made from recycled materials, with a commitment to use 100% renewable or recycled materials by 2025. At least one per cent of its annual sales is contributed to the preservation and restoration of the natural environment, with more than $100million given to grassroots organisations and supporting young activists over the past 35 years.
Patagonia is a shining example of a business that has built its brand and reputation on the back of its commitment to sustainability – a decision that has also delivered huge success commercially.
Closer to home, a number of UK retailers have made their own pledges to sustainability, whether it's Sainsbury's commitment to paying staff a fair wage, Asda's electric vehicle fleet, or M&S's Plan A.
But you don't have to go this far. Small changes really can make a big difference – and if lockdown has taught us anything, it's that transforming the way we work can happen quickly.
Sustainability in marketing print
 Our business is print, so we naturally face difficulties in being sustainable – after all, we manufacture products that by their very nature pose environmental challenges.
But like our clients, we're keen to do as much as we can to make improvements and are on the journey with them to get it right.
Sometimes this means simple changes like off-setting our carbon emissions. Sometimes it's strategic shifts that come from rethinking the way we do things. Importantly, we're learning.
Here are some tips on improving sustainability in your marketing print, that you might find useful.
Tips: how to introduce more sustainable practices into your marketing print
The key phrase when planning your print for improved sustainability is 'cradle to cradle' – in other words, ensuring that any print you purchase and use has a continuous lifecycle.
1. Choosing your printer: beware 'lip service'
None of us are perfect. Most printers who are committed to sustainability will be a work in progress, but there are signs to be aware of to ensure those you engage with aren't just paying lip service to making improvements.
Credentials and certifications such as ISO: 14001, ISO: 9001, FSC and PESC are good indicators, but more often than not it's all about attitude.
Your printer should be transparent with you and willing to share their credentials and plans for improvement. They should also be willing to partner with you to improve your systems – even if it means taking extra steps to make it work.
They should be open about their supply chains and the raw materials they're using, and willing to consider alternatives – including switching from print to digital media and cutting back on your print volume (being sustainable can be cost-effective too!)
If sustainability is important to you, don't just limit your questions to the print process. Ask them; aside from the work they're doing for you, what are they doing across their broader business to make improvements?
2. Choosing and buying your raw materials
 For many traditional paper and ink products there's now a sustainable alternative.
And we're no longer in the realms of a huge cost difference to choose environmentally friendly products. There are some excellent new materials to choose from that your printer should be able to discuss with you.
Consider carefully the purpose and requirements of your materials. What shelf life do you need from them? Do they need to be durable? Water resistant? You may find there are occasions when those high-performance plastics could be switched out for something 'friendlier'.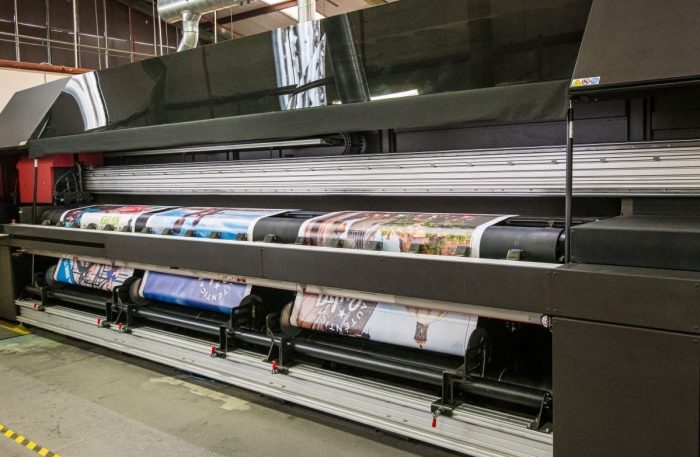 There are many ways to improve print efficiency during the manufacturing process
3. Manufacturing your print
 This is where we come in – and for this part of the process it's about being as lean and efficient as possible. Here's what we're doing as a business:
Scheduling jobs together that use the same media to minimise waste and maximise efficiency during set up and proofing
Making bulk orders for materials to reduce delivery costs and journeys. Ordering on jumbo rolls and reeling onsite to smaller rolls to make efficient use of transport containers and lower our carbon footprint
Requesting bespoke sheet sizes to achieve the best possible yield from materials. Planning more effectively for standard sizes where tight deadlines don't allow for bespoke orders
Using more sustainable materials across our entire output: not just base print materials but consumables such as clips, edging strips, glue dots and packaging. Where possible we're using recycled packaging materials and reducing the use of additional strapping and staples – and we're looking at reusing packaging containers where possible.
4. Delivery
 Often the highest environmental cost comes from the distribution of your print materials.
We're working with clients to make changes to their current distribution practices, including switching up logistics to receive POS print into their distribution centres, so it can be delivered alongside goods for resale or other marketing materials into stores and end locations.
5. Installation
 Changes you can make at the installation stage often come down to the POS displays that you choose.
Consider digital displays, light boxes, double sided boards and swappable graphics that remove the need to install entirely new displays every time.
Think about neutral and natural backdrops for your window displays, which can be reinvigorated with just a few changes.
6. Reuse, recycle
 How do you handle your graphics at their end of life?
Cradle to cradle means that during planning, you should ensure that they can be easily recycled or repurposed down the line.
And don't forget an important link in your sustainability chain – your staff. Make sure they're fully educated on your processes for reuse and recycling too.
Communication is key
Importantly, let your customers know the steps you're taking to improve your sustainability as a business – both in your print and across your operations. It could make a genuine difference as to whether they decide to shop and engage with you.
Be honest about where you are on the journey and where you need more help and make sure your print partner is being honest about what they're doing too.
At Cestrian we're on a path of continuous improvement when it comes to sustainability and we'd love to help you with your plans. Get in touch and we'll share our learnings and latest innovations with you.