Limited time offer on attention grabbing FSDUs!
Looking for some quality, free standing display units (FSDUs) at a budget friendly price? We can help.
We've launched a limited time, special price offer on our standard four shelf FSDUs. So, whether you need just one unit or hundreds for your brand, you get our best ever FSDU prices.
They are suitable for merchandise such as electrical items, beauty products, toys, clothes, bedding and more and for medium term promotions of up to 6 months. Just provide us with your print ready artwork (we can supply the template) and we'll do the rest.
What you'll get: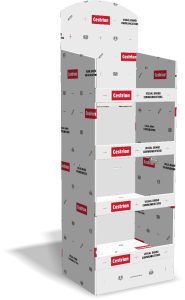 Four shelves with headerboard
Made from EB Corrugated board, fully recyclable.
Unit dimensions: 580mm x 1450mm x 435mm
Detachable header board: dimensions 580mm x 320mm
Four colour digital process. Artwork printed directly onto the substrate. Cut to shape.
Foam pad fixing
Flat packed shipping with easy assembly instructions
Our FSDUs are printed and produced in-house at our Cestrian manufacturing facility in the UK and will be delivered within 7 working days of final artwork receipt.
Contact us to find out more and take advantage of these competitive FSDU prices before the offer ends on 30th April 2021.
Need a different display solution?
If you have something more bespoke in mind, we can still offer competitive prices on different display unit styles and designs. Contact us to discuss your requirements.
Special offer prices on FSDUs offer details: Standard 4 shelf FSDU only. Delivered flat packed with instructions for assembly. Delivered within 7 working days, to one mainland UK address. Print ready artwork must be provided to our specification. Offer ends 30th April 2021. Offer available for new and existing customers of Cestrian and the ARIAN group.