Our LED light boxes and tension fabric system (TFS) frames are now even more luminous, thanks to a new development in our stretch fabrics for backlighting.
At Cestrian, we continually update our portfolio of visual graphic services and products to benefit our clients, as well as making sure we use the very best materials and techniques for each job.
One of our latest innovations is a new, improved stretch fabric for backlighting that achieves incredible results when printed on our world-class machines.
To demonstrate this in vivid colour and motion, we've put together a video for you – so you can take a look once you've finished reading (or scroll down now).
The graphics in our video have been combined with fluorescent inks to show just how much impact your retail display materials can achieve.
ASK US ABOUT FABRIC LIGHTBOXES >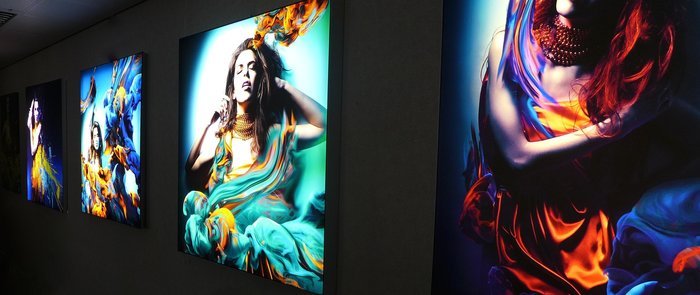 FABRIC DISPLAYS CREATED WITH EXPERT INSIGHT
The benefits of our new approach to fabric printing include:
Colour calibration to ensure consistency among in-store displays, using candela (brightness) and kelvin (colour temperature) measurements to match the specification of every lightbox and its artwork
A unique two-part diffuser system within the fabric, which is ideal for disseminating LED backlights within lightboxes
Inks being embedded into the weave of the material, meaning they become part of it rather than simply lying on top
The availability of bespoke widths, up to 3.2m metres
An environmentally friendly product that's completely recyclable
The resulting fabric graphics fit perfectly into our aluminium tension frames, which can be powder coated in any colour to suit your brand. They're also extremely easy to change, whenever you want to promote a new product or service.
We pride ourselves on our outstanding customer service, full project management and our specialist network of experienced installation teams across the UK. Get in touch to find out what we could do for you – and don't forget to check out our video:
Want to talk to us about LED light boxes or TFS frames? Give us a call on 0161 488 3300.
——————————————————————————————————————-
Keen to discover more? Check out our new toolkit: